Arlene Normand, the Rose Bay based dietitian/nutritionist, has built a strong business over ten years dealing with thousands of clients from all walks of life with a common goal - to lose and maintain weight loss.
Arlene specialises in assisting people who suffer with obesity, overweight problems, blood lipids (cholesterol, triglycerides), diabetes, gastrointestinal problems, and all food related issues and teaches good lifestyle eating and exercise patterns to both adults and children. Real health and happiness is experienced when we live with a true balance of body, mind, heart and soul. But in our busy lives this is often easier said than done. Good food is a key part of this, nutritionally it nourishes our bodies and our minds, and the joy and celebration around food nourishes our heart and soul. Arlene helps you appreciate your food and enjoy your exercise while also solving any health or weight issues.
She would now like to share her knowledge and secrets of success on both weight loss and healthy eating habits with you.
MOTIVATION
Real health and happiness is experienced when we live with a true balance of body, mind, hear and soul - be aware of your physical health, food, activity, rest and relaxation. Fresh air and sunshine make you feel more positive about life - so get outside as much as possible.
FEATURES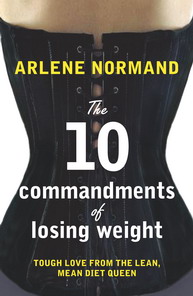 Leading dietician Arlene Normand shares her no-nonsense, tough-love approach to dieting. Her 10 Commandsments will give you the tools and the motivation to achieve your weight-loss goals.

This book will enable you to:
stop counting kilojoules
eat your favourite treats
conquer your cravings and control your portions
embrace a healthy, active lifestyle
discover a delicious six-week meal plan
learn to love food again
balance your life

This is not a fad diet. In fact it's not a diet - it's a practical lifestyle plan. With Arlene's guidance and sensible advice, you can lose weight - and keep it off forever.

Read what Dr Norman Swan, the Host of The Health Report on ABC Radio National had to say -
"In my lifelong love-hate relationship with food, I consider myself a connoisseur of weight-loss regimes. Arlene's the only person who's managed to get me to lose significant kilos and, most importantly, keep them off. So, read this book or quit moaning about your tummy".


Click here to order your copy today.
For a personal consultation with Arlene, please feel free to call or email.
Phone : (02)9362-4876
Mobile &nbsp: 0411-746-587
Email : contact-arlene@arlenesway.com.au
or click on the menu items to the left to find out more.